FOR IMMEDIATE RELEASE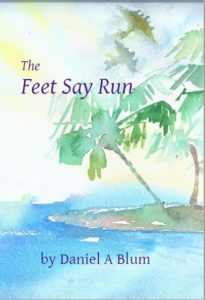 Pump Up Your Book! is proud to announce Daniel A. Blum's THE FEET SAY RUN (Gabriel's Horn Press) virtual book tour April 3 – June 30. Daniel will be guest appearing at blogs throughout the U.S. and international regions talking about his phenomenal new literary fiction that critics are saying is 'eccentric, hilarious and, in the end, very moving'!
Daniel A. Blum grew up in New York, attended Brandeis University and currently lives outside of Boston with his family. His first novel Lisa33 was published by Viking in 2003. He has been featured in Poets and Writers magazine, Publisher's Weekly and most recently, interviewed in Psychology Today.
Daniel writes a humor blog, The Rotting Post, that has developed a loyal following.
The Feet Say Run is a phenomenal book. At the age of eighty-five, Hans Jaeger finds himself a castaway among a group of survivors on a deserted island. What is my particular crime? he asks. Why have I been chosen for this fate? And so he begins his extraordinary chronicle.
It would be an understatement to say he has lived a full life. He has grown up in Nazi Germany and falls in love with Jewish girl. He fights for the Germans on two continents, watches the Reich collapse spectacularly into occupation and starvation, and marries his former governess. After the war he goes on wildflower expeditions in the Alps, finds solace among prostitutes while his wife lay in a coma, and marries a Brazilian chambermaid in order to receive a kidney from her.
By turns sardonic and tragic and surreal, Hans's story is the story of all of the insanity, irony and horror of the modern world itself.
If you'd like to follow his tour, visit http://www.pumpupyourbook.com/2017/03/07/%f0%9f%93%9a-pump-up-your-book-presents-the-feet-say-run-virtual-book-publicity-tour/. Please leave a comment or question at each of his tour stops to let him know you stopped by!!
Pump Up Your Book! is an award-winning virtual book tour agency for authors who want quality service at an affordable price. More information can be found on our website at www.pumpupyourbook.com.
Contact Information:
Dorothy Thompson
Founder of Pump Up Your Book! Virtual Book Tours
P.O. Box 643
Chincoteague, Virginia 23336
Email: Dorothy@PumpUpYourBook.com
Related posts: