FOR IMMEDIATE RELEASE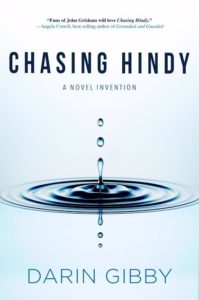 Pump Up Your Book! is proud to announce Darin Gibby's CHASING HINDY (Koehler Books) virtual book tour April 3 – June 30. Darin will be guest appearing at blogs throughout the U.S. and international regions talking about his phenomenal new thriller that critics are saying is a well written face pace novel!
In addition to a thriving career as a novelist, author Darin Gibby is also one of the country's premiere patent attorneys and a partner at the prestigious firm of Kilpatrick Townsend (www.kilpatricktownsend.com). With over twenty years of experience in obtaining patents on hundreds of inventions from the latest drug delivery systems to life-saving cardiac equipment, he has built IP portfolios for numerous Fortune 500 companies. In addition to securing patents, Gibby helps clients enforce and license their patents around the world, and he has monetized patents on a range of products.
Darin's first book, Why Has America Stopped Inventing?, explored the critical issue of America's broken patent system. His second book, The Vintage Club, tells the story of a group of the world's wealthiest men who are chasing a legend about a wine that can make you live forever. His third book, Gil, is about a high school coach who discovers that he can pitch with deadly speed and is given an offer to play with the Rockies during a player's strike. Gil soon discovers, however, that his unexpected gift is the result of a rare disease, and continuing to pitch may hasten his own death.
With a Bachelor of Science degree in mechanical engineering and a Master of Business Administration degree, he is highly regarded in Denver's legal and business community as a patent strategist, business manager, and community leader. He is also a sought-after speaker on IP issues at businesses, colleges and technology forums, where he demonstrates the value of patents using simple lessons from working on products such as Crocs shoes, Izzo golf straps and Trek bicycles.
An avid traveler and accomplished triathlete, Darin also enjoys back country fly-fishing trips and skiing in the Rocky Mountains. He lives in Denver with his wife, Robin, and their four children.
Chasing Hindy is a phenomenal book. Addy's dream as a patent attorney is to help bring a ground breaking energy technology to the world. Addy's hopes soar when she is wooed by Quinn, an entrepreneur, to join his company that has purportedly invented a car that can run on water using an innovative catalyst. After resigning her partnership to join Quinn, Addy discovers things aren't as they seem. The patent office suppresses the company's patent applications and her life is threatened by unknown assailants if she doesn't resign.
When she is arrested for stealing US technology from the patent office she realizes Quinn has used her. Now, Addy must find a way to clear her name while salvaging her dream of propelling this technology to the world, all while powerful forces attempt to stop her.
If you'd like to follow his tour, visit http://www.pumpupyourbook.com/2017/02/16/%f0%9f%93%9a-pump-up-your-book-presents-chasing-hindy-virtual-book-publicity-tour/. Please leave a comment or question at each of his tour stops and enter his $25 Amazon Gift Card Giveaway!
Pump Up Your Book! is an award-winning virtual book tour agency for authors who want quality service at an affordable price. More information can be found on our website at www.pumpupyourbook.com.
Contact Information:
Dorothy Thompson
Founder of Pump Up Your Book! Virtual Book Tours
P.O. Box 643
Chincoteague, Virginia 23336
Email: Dorothy@PumpUpYourBook.com
Related posts: