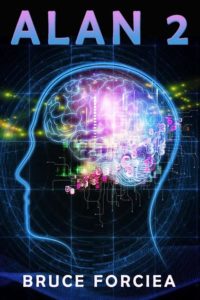 FOR IMMEDIATE RELEASE
Pump Up Your Book! is proud to announce Bruce Forciea's Alan 2 virtual book tour March 6 – May 31. Bruce will be guest appearing at blogs throughout the U.S. and international regions talking about his new cyber thriller release, Alan 2, that critics are calling a must-read!
A brilliant artificial intelligence (AI) scientist, Dr. Alan Boyd, develops a new program that integrates part of his brain with a computer's operating system. The program, Alan 2, can anticipate a user's needs and automatically perform many tasks. A large software company, International Microsystems (IM) desperately wants the program and tempts Dr. Boyd with huge sums of money, but when Dr. Boyd refuses their offer, IM sabotages his job, leaving him in a difficult financial situation.
Dr. Boyd turns to Alan 2 for an answer to his financial problems, and Alan 2 develops plan Alpha, which is a cyber robin hood scheme to rob from rich corporations via a credit card scam.
Alan and his girlfriend Kaitlin travel to Mexico where they live the good life funded by plan Alpha, but the FBI cybercrime division has discovered part of Alan 2's cyber escapades, and two agents, Rachel and Stu, trace the crime through the TOR network and Bitcoin.
Alan 2 discovers the FBI is on to them and advises Alan and Kaitlin to change locations. A dramatic chase ensues taking them to St. Thomas, a cruise ship bound for Spain, and finally to Morocco.
Will they escape detection? They will if Alan 2's Plan Beta can be implemented in time. Or is 'Plan B' something altogether different than it appears to be, something wholly sinister that will affect the entire population of the world?
If you'd like to follow his tour stops, visit http://www.pumpupyourbook.com/2017/01/19/pump-up-your-book-presents-alan-2-virtual-book-publicity-tour. Please leave a comment or question at each of his tour stops to let him know you stopped by!
Pump Up Your Book! is an award-winning virtual book tour agency for authors who want quality service at an affordable price. More information can be found on our website at www.pumpupyourbook.com. While there, check out our Authors on Tour page to see what we have coming up in the months ahead. We're always looking for new bloggers to join our team.
Contact Information:
Dorothy Thompson
Founder of Pump Up Your Book! Virtual Book Tours
P.O. Box 643
Chincoteague, Virginia 23336
Email: Dorothy@PumpUpYourBook.com
Related posts: