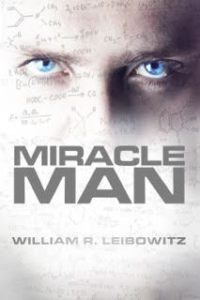 FOR IMMEDIATE RELEASE
Pump Up Your Book! is proud to announce William R. Leibowitz's Miracle Man virtual book tour March 6 – May 31. Bill will be guest appearing at blogs throughout the U.S. and international regions talking about his thriller novel that was named by Amazon as one of the Top 100 Novels of 2015, an Amazon Top 10 thriller, an Amazon bestseller and an Amazon NY Times bestseller.
The victim of an unspeakable crime, an infant rises to become a new type of superhero. Unlike any that have come before him, he is not a fanciful creation of animators, he is real.
So begins the saga of Robert James Austin, the greatest genius in human history. But where did his extraordinary intelligence come from?
As agents of corporate greed vie with rabid anti-Western radicals to destroy him, an obsessive government leader launches a bizarre covert mission to exploit his intellect. Yet Austin's greatest fear is not of this world.
Aided by two exceptional women, one of whom will become his unlikely lover, Austin struggles against abandonment and betrayal. But the forces that oppose him are more powerful than even he can understand.
If you'd like to follow his tour stops, visit http://www.pumpupyourbook.com/2017/02/08/%f0%9f%93%9a-pump-up-your-book-presents-miracle-man-virtual-book-publicity-tour/ and you may win one of ten prizes – autographed paperback, 5 e-copies or 4 pens. Please leave a comment or question at each of his tour stops to let him know you stopped by!
Pump Up Your Book! is an award-winning virtual book tour agency for authors who want quality service at an affordable price. More information can be found on our website at www.pumpupyourbook.com. While there, check out our Authors on Tour page to see what we have coming up in the months ahead. We're always looking for new bloggers to join our team.
Contact Information:
Dorothy Thompson
Founder of Pump Up Your Book! Virtual Book Tours
P.O. Box 643
Chincoteague, Virginia 23336
Email: Dorothy@PumpUpYourBook.com
Related posts: