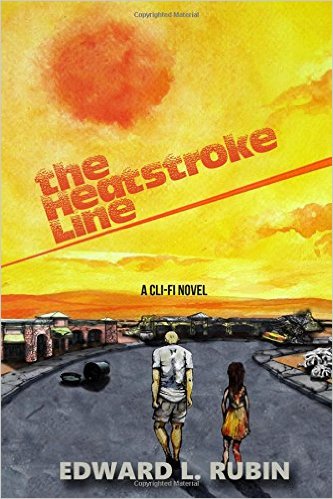 FOR IMMEDIATE RELEASE
Pump Up Your Book! is proud to announce Edward L. Rubin's THE HEATSTROKE LINE (Sunbury Press) virtual book tour starting January 3 and ending March 31. Edward will be guest appearing at blogs throughout the U.S. and international regions talking about his phenomenal new scifi/cli-fi new novel that critics are comparing to Mad Max, The Hunger Games, Waterworld, and The Walking Dead. THE HEATSTROKE LINE is Pump Up Your Book's Top Scifi Pick of the Month.
Edward Rubin is University Professor of Law and Political Science at Vanderbilt University. He specializes in administrative law, constitutional law and legal theory. He is the author of Soul, Self and Society: The New Morality and the Modern State (Oxford, 2015); Beyond Camelot: Rethinking Politics and Law for the Modern State (Princeton, 2005) and two books with Malcolm Feeley, Federalism: Political Identity and Tragic Compromise (Michigan, 2011) and Judicial Policy Making and the Modern State: How the Courts Reformed America's Prisons (Cambridge, 1998). In addition, he is the author of two casebooks, The Regulatory State (with Lisa Bressman and Kevin Stack) (2nd ed., 2013); The Payments System (with Robert Cooter) (West, 1990), three edited volumes (one forthcoming) and The Heatstroke Line (Sunbury, 2015) a science fiction novel about the fate of the United States if climate change is not brought under control. Professor Rubin joined Vanderbilt Law School as Dean and the first John Wade–Kent Syverud Professor of Law in July 2005, serving a four-year term that ended in June 2009. Previously, he taught at the University of Pennsylvania Law School from 1998 to 2005, and at the Berkeley School of Law from 1982 to 1998, where he served as an associate dean. Professor Rubin has been chair of the Association of American Law Schools' sections on Administrative Law and Socioeconomics and of its Committee on the Curriculum. He has served as a consultant to the People's Republic of China on administrative law and to the Russian Federation on payments law. He received his undergraduate degree from Princeton and his law degree from Yale.
He has published four books, three edited volumes, two casebooks, and more than one hundred articles about various aspects of law and political theory. The Heatstroke Line is his first novel.
The Heatstroke Line is a phenomenal book. Nothing has been done to prevent climate change, and the United States has spun into decline. Storm surges have made coastal cities uninhabitable, blistering heat waves afflict the interior and, in the South (below the Heatstroke Line), life is barely possible. Under the stress of these events and an ensuing civil war, the nation has broken up into three smaller successor states and tens of tiny principalities. When the flesh-eating bugs that inhabit the South show up in one of the successor states, Daniel Danten is assigned to venture below the Heatstroke Line and investigate the source of the invasion. The bizarre and brutal people he encounters, and the disasters that they trigger, reveal the real horror climate change has inflicted on America.
If you'd like to follow his tour, visit http://www.pumpupyourbook.com/2016/12/05/pump-up-your-book-presents-the-heatstroke-line-virtual-book-publicity-tour/ . Please leave a comment or question at each of his tour stops to let him know you stopped by!
Pump Up Your Book! is an award-winning virtual book tour agency for authors who want quality service at an affordable price. More information can be found on our website at www.pumpupyourbook.com. While there, check out our Authors on Tour page to see who we have coming up in the months ahead. We're always looking for new bloggers to join our team!
Contact Information:
Dorothy Thompson
Founder of Pump Up Your Book! Virtual Book Tours
P.O. Box 643
Chincoteague, Virginia 23336
Email: Dorothy@PumpUpYourBook.com
Related posts: